$2999.00
Hydraulic Embalming Table
Trinity is pleased to offer our line of superior designed, engineered and manufactured O.R tables. The Hydraulic Embalming Table will hold up to 650 pounds. High quality Stainless Steel top makes table easy to clean. Specially designed shape of stainless steel makes fluids drain away from body. Deep trough around all 4 sides eliminates the need for splash guards and assists the easy flow of body fluids to the drain at the center of the foot end. 3 hydraulic foot pedals make raising or lowering either or both ends of the table simple. Stain resistant plastic base keeps product looking clean and new. Easy to steer and move. Wheels lock instantly with conveniently placed foot brake.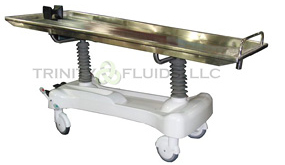 $1850.00
Folding Embalming Table
Trinity"s Folding Embalming Table is actually a combination table ideal for dressing, transferring and embalming. It has a stainless steel top with an extra deep trough for easy flow of fluids. A one hand release adjusts either end of the table from 32.5″ to 38.5″, with each end independently adjustable. Heavy duty castors and easy swivel wheels makes the unit easy to move. Each wheel locks to hold the table in place while in use. This table when folded can stand on one end for storage behind a door or in a closet.